Problem:
After opening Outlook 2010 you find that the 'Favorites' list has changed order.
The order is seemingly random, not alphabetical or grouped in any particular order.
For example, you have five mail folders as added as favorites:
Inbox
Sent Items
Shared Folder 1
Shared Folder 2
Deleted Items
After closing and reopening Outlook, the order has changed to:
Shared Folder 2
Sent Items
Inbox
Shared Folder 1
Deleted Items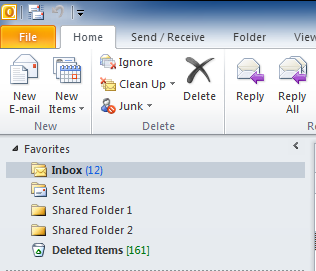 Solution:
This usually occurs when the settings or files associated with the Outlook navigation pane have become corrupted.
To resolve the issue, start Outlook using the /resetnavpane switch.
Note: This process will reset the Outlook navigation pane. Some settings will be restored to default. Whilst this may be inconvenient, it is necessary to fix the problem.
Close Outlook, and check it isn't still running in the background (check for a grey Outlook icon in the Start Menu Notification Area)
Click on the Windows Start Menu
Enter outlook /resetnavpane and press enter on the keyboard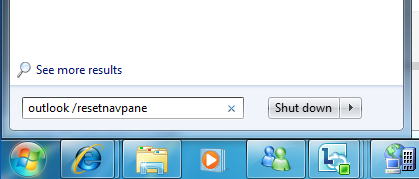 Note: This may fix the issue, however it may not fix WHY the issue is happening (so it may reoccur). It's quite likely that this issue is caused by closing Outlook in an unsafe way, for example using the 'End Task' or 'Force End' options when shutting down a computer.