Problem
After migrating from an earlier version of Office to Office 2013 some Access databases do not load or do not run correctly.
You may see an error message which reads
Your Microsoft Access database or project contains a missing or broken reference to the file 'OFFOWC.DLL' version 1.1.
* To ensure that your database or project works properly, you must fix this reference. Content

When running reports you may also see prompts which read
Enter Parameter Value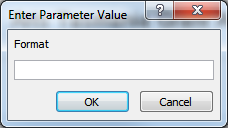 Solution
MAKE A BACKUP OF YOUR ACCESS DATABASE BEFORE FOLLOWING THE STEPS BELOW!
First, if you are unable to open the Access database – hold the shift key whilst opening the file from Windows Explorer – this will allow the database to open without running any autorun scripts.
With the database open, click on the 'DATABASE TOOLS' tab then the 'Visual Basic' button
Click on the 'Tools' menu then 'References'
Here you will see one or more references with 'MISSING' at the start of the name – un-tick each of the missing (broken) references.
Click 'OK' to save the changes and close the visual basic window.
Close and reopen the Access database – with a bit of luck the missing references were not nesecary for the Access database to run.