The following steps show how to remove passwords that have been saved using the built-in password manager.
These are the passwords saved when you see the would you like Firefox to remember this login prompt.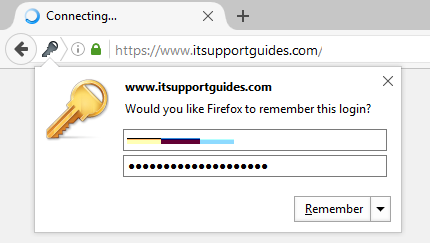 If you're looking to completely disable the password manager, see: Firefox – How to stop save password prompt (disable password manager).
With Firefox open, click on the menu button at the top left of the window (three horizontal lines)
Click on 'Options'
In the left hand menu click on 'Security'
Click on the 'Saved Passwords' button
The 'Saved Passwords' window will open – this window lists all the saved user names and passwords that have been saved by Firefox.
If you want to remove a specific saved password, select it from the list then click the 'Remove' button
If you want to remove all saved passwords, click the 'Remove All' button then click 'Yes'