The following steps show how to recover deleted files from a USB drive using TestDisk – a free recovery tool.
In this example we will be recovering a text file and an image.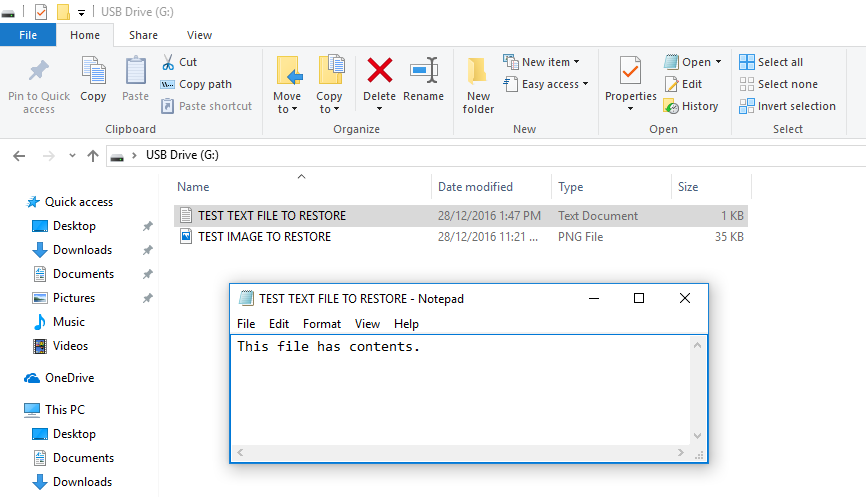 IMPORTANT:
This process will not work if the drive has been reformated
File recovery can be a hit and miss process – you might not be able to recover the file(s) completely (which would give you a corrupted file) or at all
For any hope at recovering the deleted files you must STOP using the USB drive straight away – the more you write to the drive the more of the deleted files you loose forever. This means do not download, extract or run TestDisk from the USB drive.
Chances are the USB drive is using the FAT32 partition format. If it is you will not be able to recover the names of the deleted files – any recovered files will have a new random name. This is due to the way FAT32 stores file names separate from the files.
Download TestDisk from http://www.cgsecurity.org/wiki/TestDisk_Download
Extract the zip file
Browse the extracted folders and run "testdisk_win"
A black command prompt window will open.
When prompted, press enter on your keyboard to create a new log file
TestDisk will now scan for drives connected to the computer.
Using the arrow keys on your keyboard select the disk you need to recover the deleted file(s) from and then press enter on your keyboard
Select the partition type, this is most likely going to be 'Intel' and press 'Enter'
Select 'Advanced' and press 'Enter'
Using the up and down arrow keys, select the partition that was holding the files
Using the left and right arrow keys, make sure 'Undelete' and selected below
Press enter
The window will now list all recoverable files from the disk
Press 'a' on your keyboard to select all files
Press and hold Shift and C (capital C)
Press C to save to the default directory
The window will now read 'Copy done!' and hopefully no failed.
The recovered files will be found in the same folder as testdisk_win