When you open files or folders Windows 10 keeps a history so it can list your 'Recent Items' (recently opened files) and 'Frequent Folders' (folders you use a lot).
These are listed under 'Quick Access' in File Explorer– which happens to be the default folder when you open the File Explorer, as well listing the 'Frequent Folders' in the navigation pane.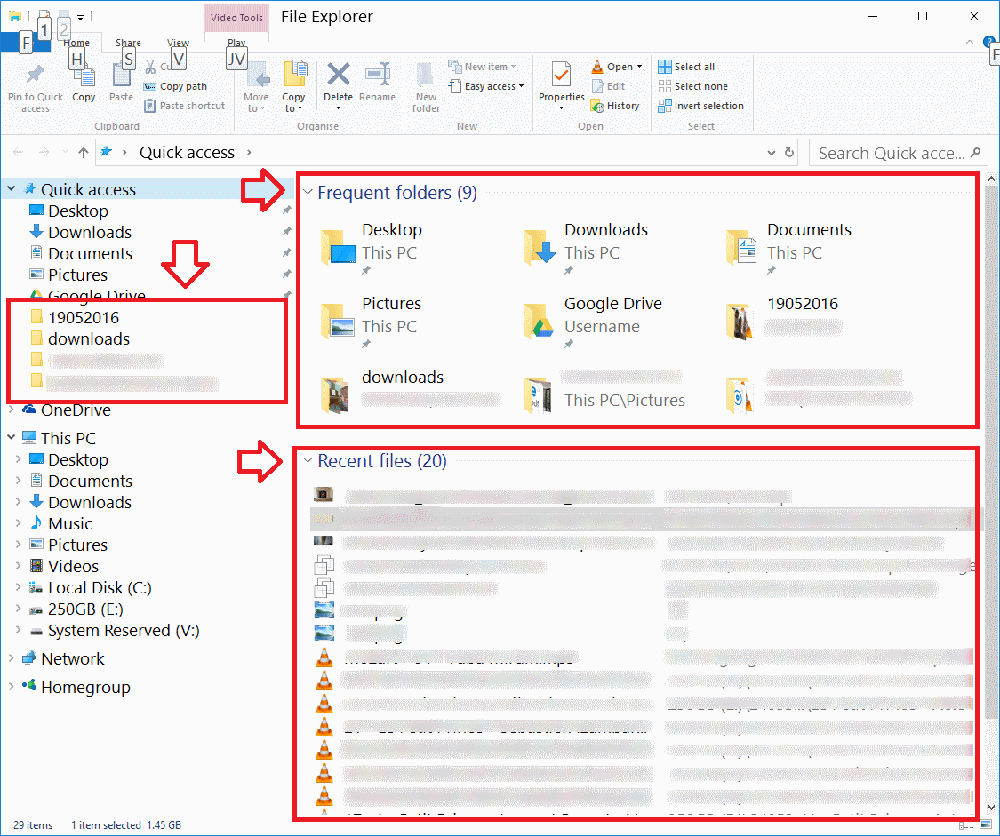 There are two options available for manging these lists — manually clearing the history (leaving the history still working), completely disabling the feature, and if you have Windows 10 Pro you can completely disable it using the registry editor.
Method 1: Manually clear the Recent Items and Frequent Folders history
To manually clear the history
Press the Windows button + R on your keyboard — this will open the Run window
Copy in the following path and click 'OK'

%AppData%\Microsoft\Windows\Recent

Now select all and delete all items — remember to empty the Recycling Bin if you don't want this history to be easily restored.
Method 2: Disable the Recent Items list
This is the process Windows 10 Home users will need to use.
Note: It will only disable the 'Recent files' list — NOT 'Frequent folders'.
Click on the Windows Start button then open 'Settings' (the cog icon)
Click on 'Personalisation'
Click on 'Start' in the left hand menu
Scroll to the bottom of the list of settings and turn 'Show recently opened items in Jump Lists on Start or the taskbar' to 'Off'
You can now close the window
Method 3: Disable the Recent Items and Frquent Folders list using the Registry Editor
Note: this will only work for Windows 10 Pro — the registry editor is not built into Home edition.
Press the Windows button + R on your keyboard — this will open the Run window
Copy in the following command and click 'OK'

gpedit.msc

Navigate to the following path
UserConfiguration -> Administrative Templates -> Start Menu and taskbar
In the list of settings, find 'Do not keep history of recently opened documents'
Double click to edit and change to 'Enabled'