When WordPress is installing updates – whether that be plugin updates or WordPress updates – the site is temporarily put in maintenance mode, stopping users from loading the website. Instead users will see a message which reads:
Briefly unavailable for scheduled maintenance. Check back in a minute.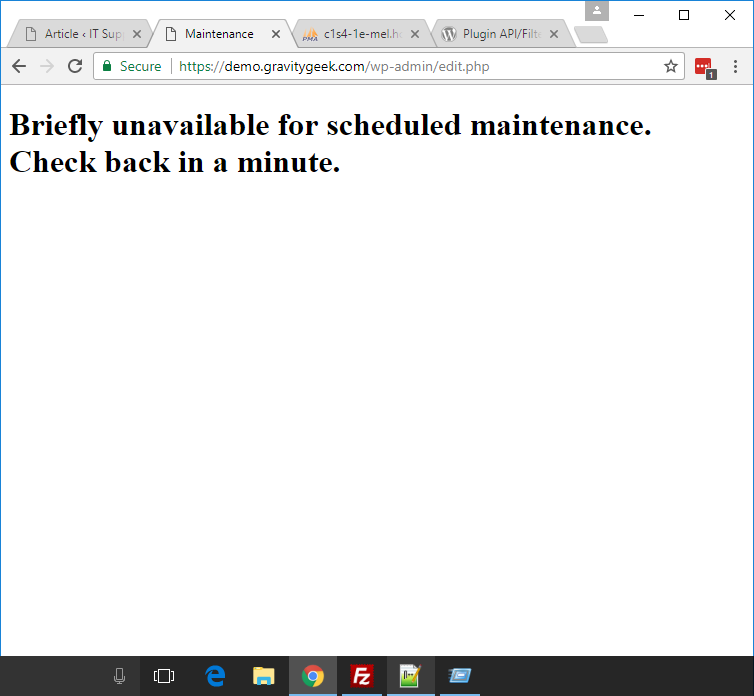 If you've found your website has been in maintenance mode for longer than this it's possible it's "stuck" in the maintenance mode.
This happens when an update critically fails – where not only does the update fail, but removing the maintenance mode also fails.
So what do you do if this happens?
First thing is do not panic.
Some updates are larger than others – I would give the website a couple of minutes to see if the updates are still in progress.
If you feel it's still taking too long to complete and want to remove the maintenance mode all you need to do is access your WordPress installation files on the web server (for example through FTP or cPanel access) and delete the .maintenance file at the root level of the WordPress installation.

Help! I don't know how to do this!
Again – do not panic.
WordPress actually has a neat little trick up its sleeves.
When the .maintenance file is created, it stores the time when the updates started.
Each time the maintenance mode message is displayed it checks how long it's been since it started – if it's more than 10 minutes it will automatically remove the file and thereby removing the maintenance mode!
So just hold tight, wait 10 minutes and reload the page – the file will automatically be removed.