For two months I've been using a Ring Doorbell 2 – a "smart" home security device which doubles as a door bell and security camera – letting you know who comes to your front door.
Here's my experience using the Doorbell 2.
The unboxing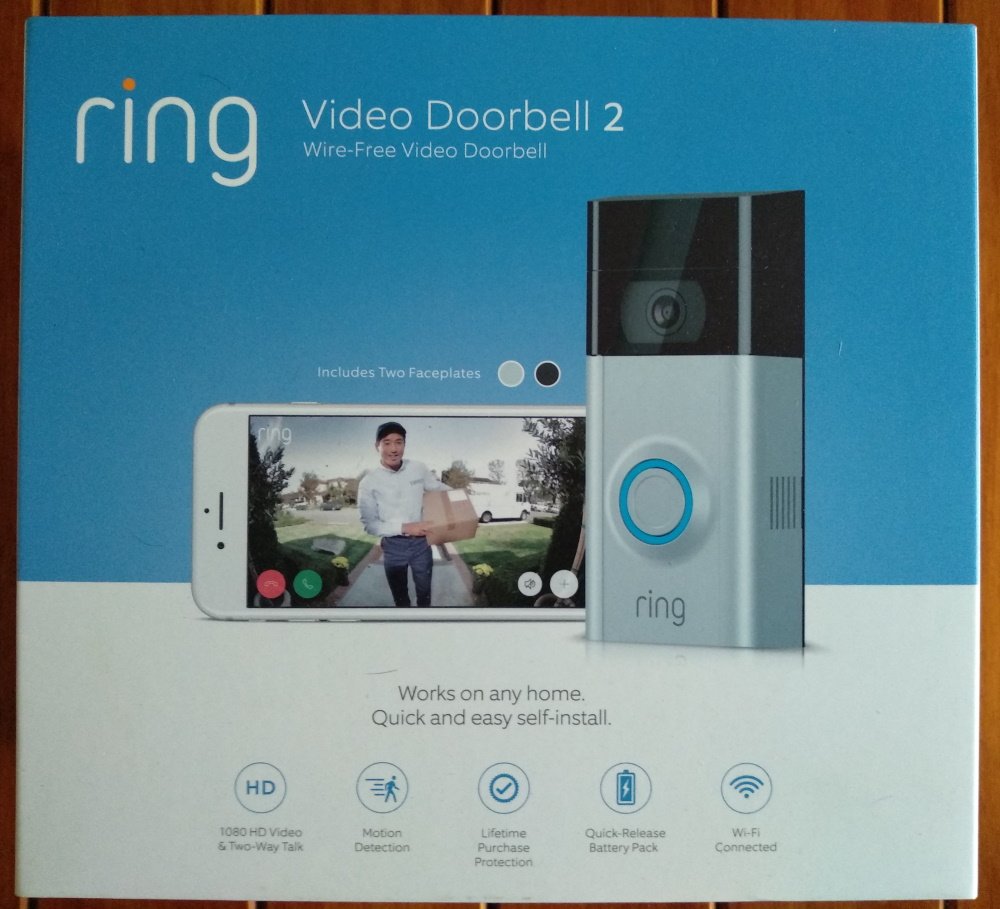 Unboxing the Doorbell 2 you get an impression of premium quality.
Inside you find the device along with various brackets, screws and instructions – everything you need to do the physical installation.
It even came with a mini level – however the level wasn't very accurate.
It also came with two face plates – silver and black – helping you match the look of your house.
The setup
Setting up the Doorbell 2 took a couple of attempts – the instructions were unclear and there were issues at almost every step.
First it wouldn't scan the QR code on the back of the device.
Then I had to verify my email address – but the email took several minutes to arrive and no matter how many times I clicked "verify" it wouldn't verify in the setup wizard. I ended up quitting and starting again three times before it worked!
Then it instructed me to "plug in your Bridge and wait for it to turn on" without any explanation of what a "Bridge" is (and I still don't know!)
After progressing through the setup wizard – it asked me how far movement should be monitored, but it only used feet … even though I had previously said I was in Australia which uses meters.
After getting through the wizard – the advertisements for the "Ring Protect Plan" begin.
Many of the support links didn't work – giving a "oops – the page you were looking for doesn't exist" error.
It was far from a smooth experience.
Additional costs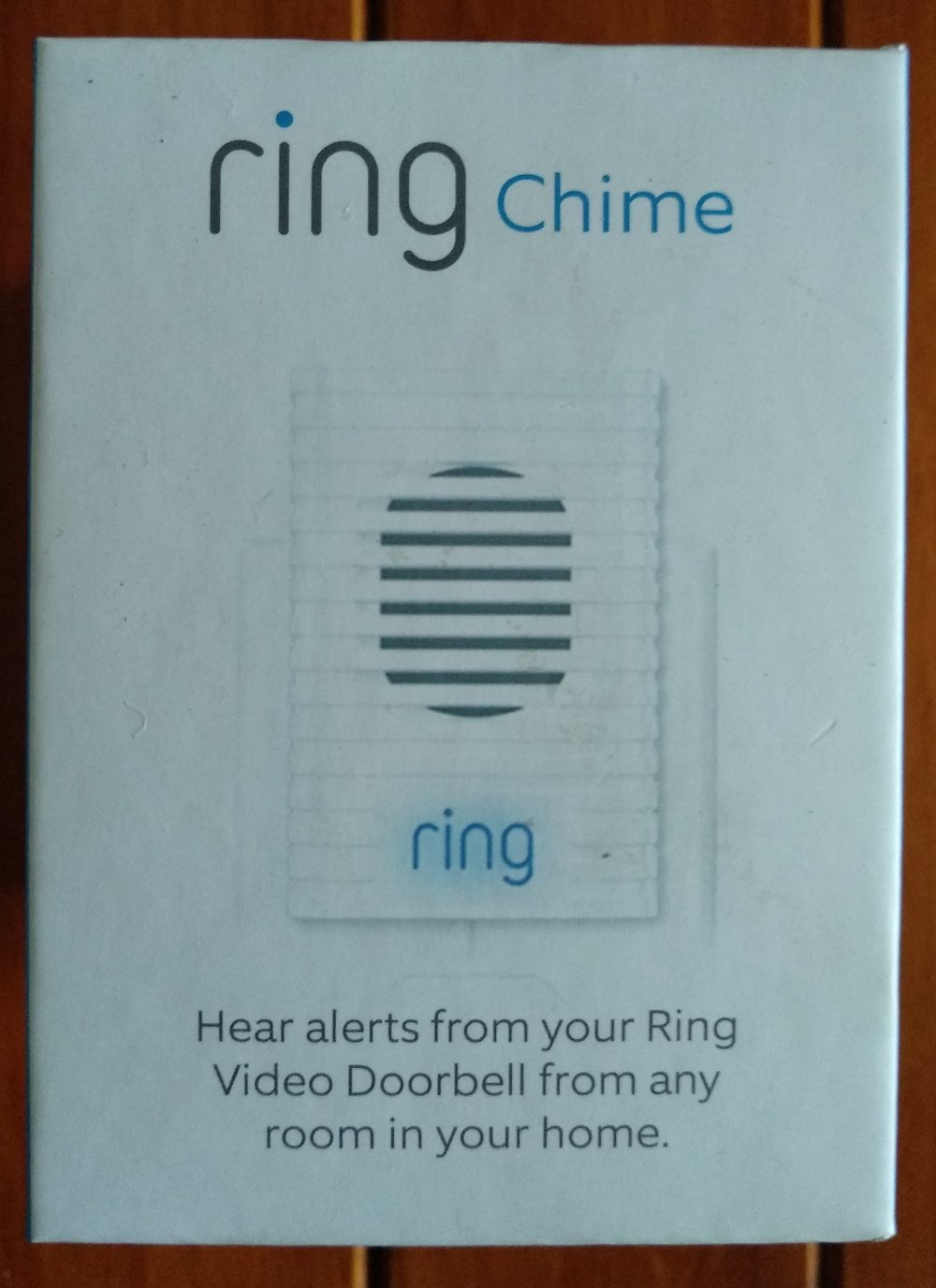 After getting through the setup process you discover the Doorbell 2 is missing a critical component – the indoor speaker.
The expectation is that you use your mobile phone as the speaker – but that assumes one will always be available and nearby.
Not to worry – you can buy a "Chime" device for an additional $53 (AUD @ Bunnings). Which seems a bit rich for a basic device that comes with any other doorbell.
After setting up the Chime I realised I couldn't dismiss the "Ring Protect Plan" reminder which annoyingly sits at the bottom of the app – often covering buttons.
OK – so what is the Ring Protect Plan? It's an additional $4 (AUD) a month you need to pay to be able to use all the "smart" features advertised! Without this the functionality is so limited you may as well put the Doorbell 2 in the bin (see why below).
Reliability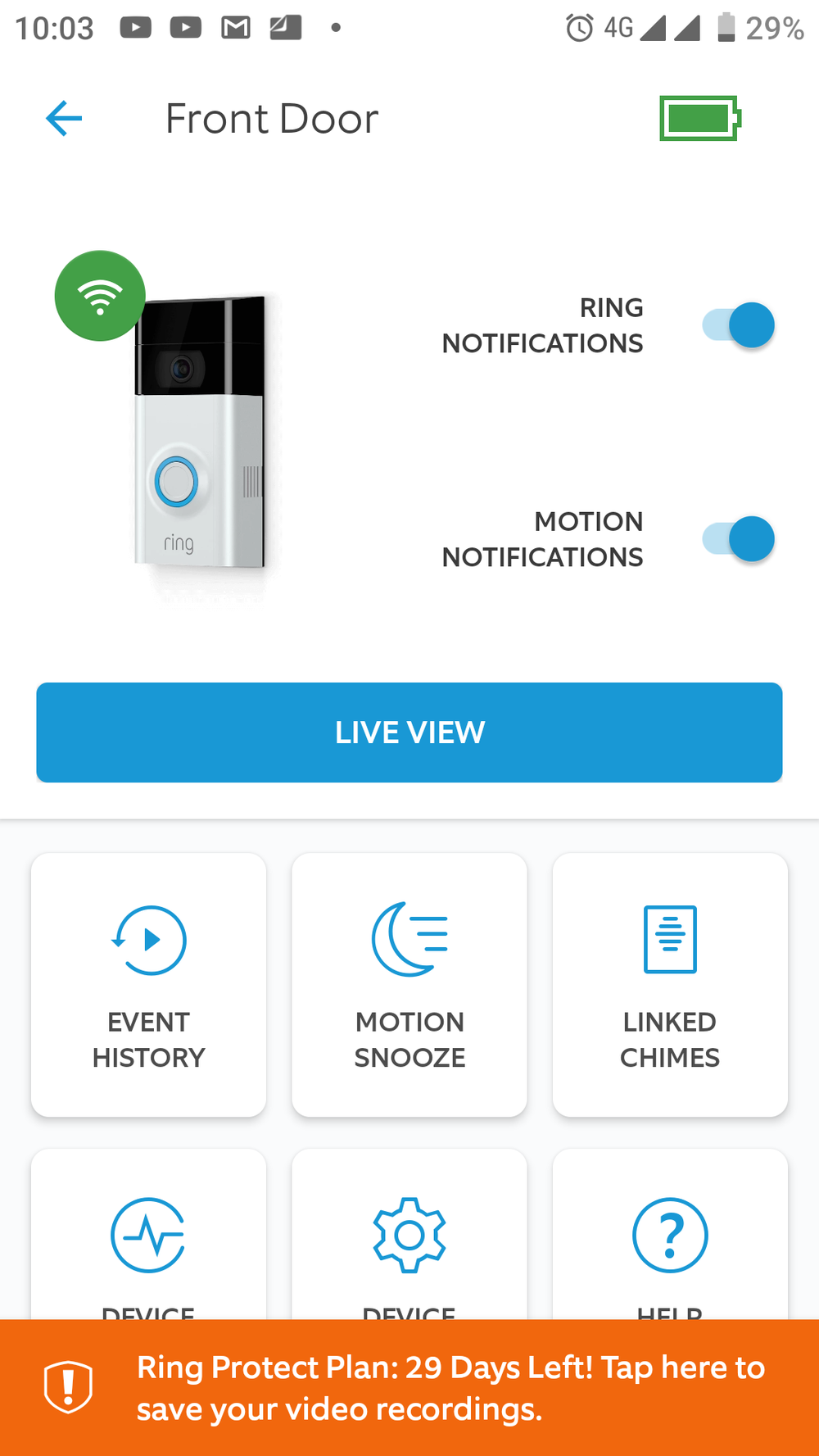 Unfortunately, this is where things get bad.
After properly setup, the Doorbell 2 accurately detects people – however there's a 3-5 second delay with the notification. Add to that having unlock your phone, open the app, select the camera and connect to "live view" – you need at least 10 seconds before seeing who's at the door. Long enough for a delivery to arrive, press the doorbell and leave.
If you miss the visitor AND have a current subscription to the Ring Protect Plan you can review the past footage. Which is why you really MUST have the subscription. BUT it takes a further 3+ minutes for the video to be available to view.
I use a business grade fibre internet connection, quality router and wireless – the delay is NOT in my network. I've never had any issues connecting to and using other generic brand IP cameras – only the Ring Doorbell 2.
I suspect some of these delays may be because I'm in Australia and the servers are in America (or some other distant land) – but it's a MASSIVE delay for a home security device that was not cheap to buy and requires a monthly subscription.
As a side note – the Chime (the indoor speaker device) once disconnected and needed to be turned on and off again. An easy fix, but annoying and again … unreliable.
Battery life
The Doorbell 2 comes with a large removable battery which charges using a USB cable.
The battery lasts about 2 months and takes 8 hours to charge – which seems long a long time.
Functionality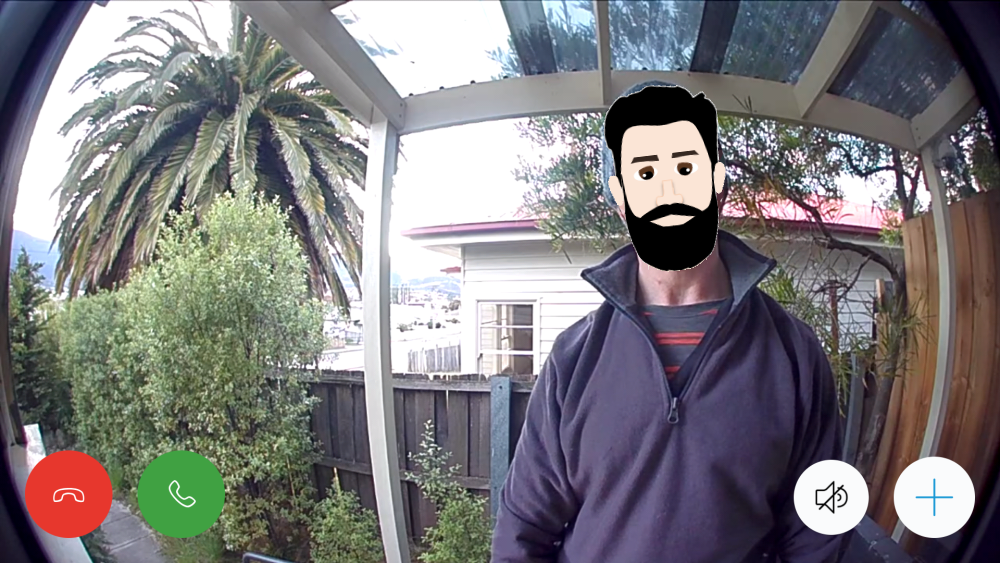 When everything goes well and you can connect to the Doorbell 2 and speak with the visitor at the other end.
The camera quality is clear and decent colour balance. The field of vision wide enough to capture my front door and pathway.
The audio through the phone is good – you can hear them almost perfectly however the audio they hear through the Doorbell 2 is pretty bad – like it has a small crackly speaker inside.
There is an occasional signal loss where you don't hear a full sentence. But if you speak slowly and clearly you get understand enough to have a conversation.
When it's windy the audio is difficult to understand, but workable.
The Doorbell 2 only supports 2.4G wireless – which is common, but slightly annoying if you want to use the faster 5G wireless which is becoming standard now
Final thoughts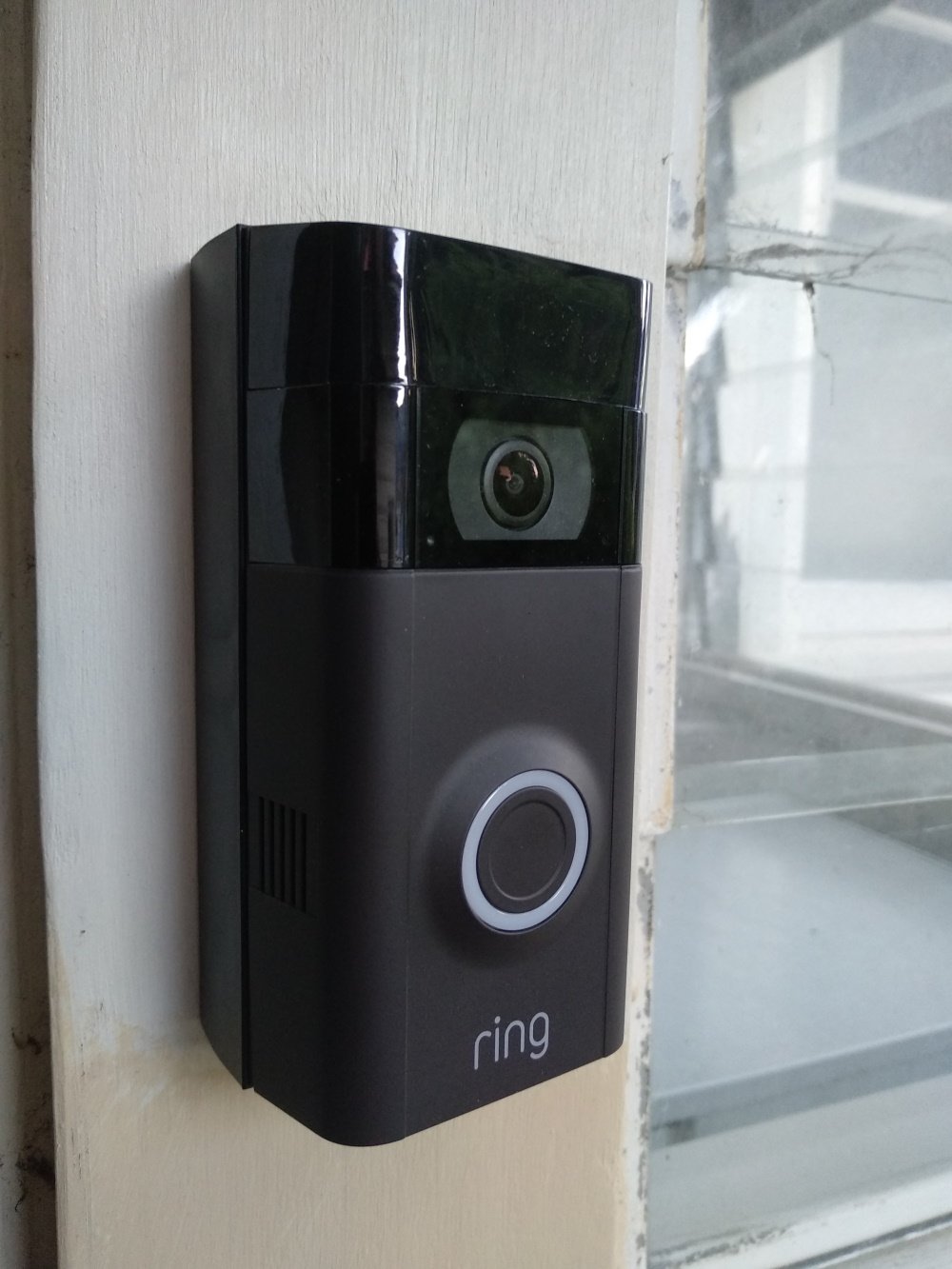 If the Ring Doorbell 2 has done anything right – it's shown me how many people come to my house when I'm not home. A surprising amount!
The hardware is a pretty decent – however the software is a real problem. The software is buggy and confusing to setup, slow to connect and randomly disconnects from the wi-fi.
Needing to have a subscription to get any real value is a massive drawback. $4 AUD a month is not massively expensive but having alternatives like local storage or connecting to other cloud services like Google Drive or OneDrive is expected when you are spending $299 AUD on a "smart" device.
It also appears to be a very America-centric device – for example, professional monitoring is only available in America, measurements are in feet, no localised website (e.g. .com.au).
I enjoy having the Ring Doorbell 2 – it's useful to know who visits. But be prepared to miss a lot of visitors – because the time to connect is often longer than people are willing to wait.
I'll continue to regularly use it and will (unfortunately) pay for the subscription – but when it fails I will look for an alternative which is more reliable and doesn't require a subscription.