Outlook 2007 and Outlook 2010 have the ability to search the network for an existing Exchange installation and then automatically accept the configuration details from the Exchange server (email address, username, domain, Exchange server).
By setting this up users will be able to load Outlook, then when the setup wizard laods they only need to keep pressing next to configure their Outlook connection.
To set this up you need:
The workstation added to the domain
The users to be logged into the workstation using their user account
Outlook 2007 or Outlook 2010 installed on the workstation
A simple A name DNS record called 'autodiscover'
To configure the 'autodiscover' DNS record:
Log on or connect to one of your DNS servers
Open the DNS console (Start -> Administratrive Tools -> DNS)
Expand 'Forward Lookup Zones'
Right click on your domain name and select 'New Host A'
Under 'Host' enter "autodiscover"
Under 'IP Address' enter the IP address for your Exchange server (or the server hosting the CAS role)
Click 'OK' to save the changes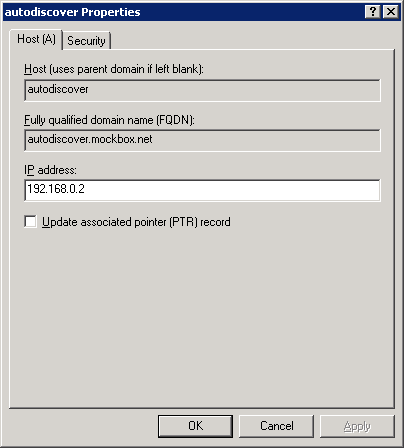 What if this does not work?
Trying pinging 'autodiscover'. Does it resolve to the IP address of the server? If not:
Check that your workstation is getting it's DNS information from the correct source
On the workstation flush the DNS (Command line: ipconfig /flushdns)