By default when saving a CSV file in Excel, each column will be separated using a comma as the delimiter – hence the name Comma Separated Values (CSV).
This can be seen when you open the CSV file in a text editor –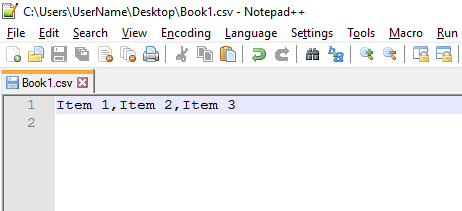 There are however other formats for delimited data – for example, some systems may use a pipe character |.
The steps below will show how to make it so Excel will use the pipe character as the delimiter – unfortunately it cannot be configured from Excel and needs to be done globally from the Windows Control Panel.
In this example we're using Windows 10 – but it should be very similar using Windows 7 or 8.
NOTE: this will make it so Excel no longer correctly displays COMMA separated lists automatically. This is something I would only do temporarily to save a file using a different delimiter.
Just want to "fix" or convert a different format ? – see Excel 2013/2016 – How to split comma separated values into columns
In the start menu, search for 'Control Panel' and click on it when it appears in the search results
Click on the 'Clock, Language, and Region' link – or search for it if not displayed
Click on the 'Region' link
Click on the 'Additional settings' button
Under 'List separator' enter the character you want to use as a delimiter – in this case the pipe character |
Click OK and OK again to save the changes.