Problem:
When attempting to recover the content from a shared mailbox you discover that you are unable to expand, browse or navigate past the mailbox level.
When you click on the expand (plus) icon the sub-folders in the mailbox are not displayed.
The browser window gives the message "There are no items to show in this view".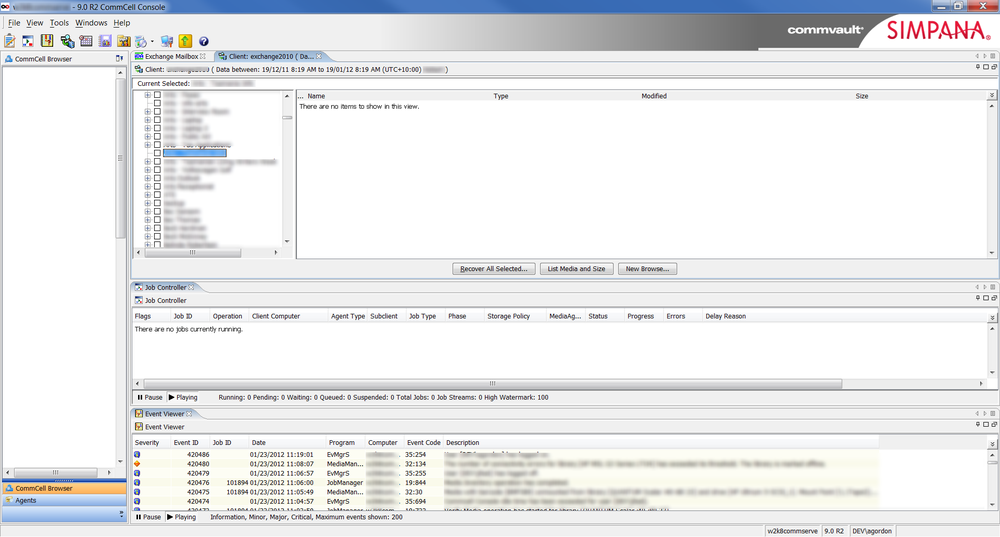 Solution:
By default, Mailboxes whose user accounts are disabled from Active Directory are not backed up.
Unfortunately this will mean that the content for any disabled mailbox has not been backed up for as long as your back up system has been configured in this way. You may be able to investigate restoring a full mailbox database and recovering the content from the database, however this is not an easy option.
To avoid this issue in the future you will need to make a configuration change from the CommCell console. this can be done by following the steps given below:
From the CommCell Browser, navigate to 'Client Computers'
Right-click the <Client> in which you want to add the registry key, and then click 'Properties'
Click the 'Registry Key Settings' tab
Click 'Add'
Enter nBackupDisabledMailBoxes in the 'Name' field
Enter MSExchangeMBAgent in the 'Location' field
Enter REG_DWORD in the 'Type' filed
Enter 1 in the 'Value' field.
Click 'OK'
From the CommCell Console, navigate to <Client> -> Exchange Mailbox -> defaultBackupSet
Right click the subclient and click 'Backup'
Select 'Full' as backup type and 'Immediate' to run the job immediately
Click 'OK'
You can track the progress of the job from the Job Controller or Event Viewer window.
More information:
http://documentation.commvault.com/commvault/release_9_0_0/books_online_1/english_us/prod_info/exchange_mailbox.htm?var1=http://documentation.commvault.com/commvault/release_9_0_0/books_online_1/english_us/products/exchange_mailbox/config_adv.htm