The following VBS scripts will allow you to remotely connect to a computer on your network to collect the monitor details.
It retrieves the:
Instance name
Manufacture name
User friendly name (often contains the monitor's model name)
Serial number
Week of manufacture
Year of manufacture
There are two versions of the script available, one for a single computer and one for a list of computers.
Both can be downloaded below.
Get monitor serial number for a single computer
Get Monitor Info – remotely.vbs
When you run the script it will prompt for the remote computer name: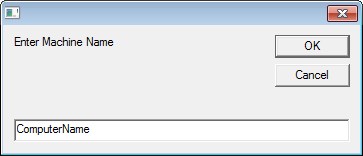 After entering the remote computer name it will return the information on all attached monitors.
For example: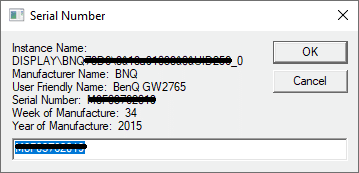 Get monitor serial number for a list of computers
VBS – Get Monitor Serial Number Remotely – Machine List.zip
Note – Microsoft Excel must be installed on the computer to run this script.
After downloading and extracting the ZIP file you will find two files,

MachineList.txt – which holds the list of computers to get the serial numbers from, each computer name needs to be on a new line
Get_Monitor Info – remotely (MachineList).vbs – the script to run

Update MachineList with the list of computers
Run 'Get_Monitor Info – remotely (MachineList).vbs'
Microsoft Excel will load and begin to add the header row then the details of each computer
If a computer is online (available on the network) its details will be recorded then it is removed from MachineList.txt
If a computer is offline it is marked as 'Offline' in the excel document and it remains in MachineList, so you can run the script later when the computer is online.