Problem
When you attempt to use their provided plugin you receive an error message which says 'This gadget requires Microsoft Office Outlook 2007'.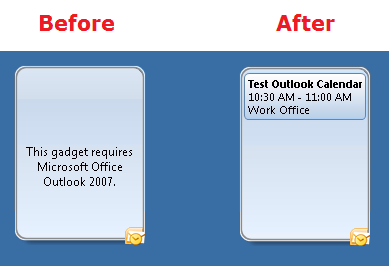 Solution
Microsoft no longer support the desktop gadgets for Outlook (2007, 2010 or 2013) and do not have a version available for download on their website.
Originally they provided a version of Outlook 2007 which you are able to customise to work with Outlook 2010 or Outlook 2013.
Preconfigured versions of the gadget can be downloaded from here [DOWNLOAD] Windows 7 – Office 2007, 2010 & 2013 Desktop Gadgets.