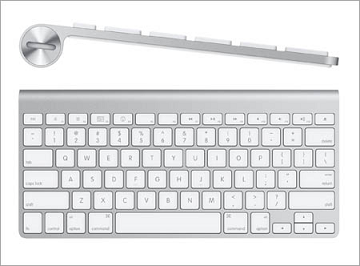 Apple wireless keyboards are bluetooth devices and able to be paired with Windows 7 systems (laptops) which have bluetooth connectivity.
The process of pairing a apple wireless keyboard to a Windows 7 system is:
Turn on the wireless keyboard. You should see a flashing green light on the keyboard.
On the Windows 7 system click on the Windows 'start' menu
Click on 'Devices and Printers'
Click on the 'Add a device' button

The wizard will begin to search for devices which can be added
If it does not find the wireless keyboard check that the laptop bluetooth is enabled – for laptops this is usually a button which looks like a wireless antenna
From the list click on the device then click 'Next'
You will then be given a code, using the wireless keyboard enter in the code to confirm the connection
The message underneath will then change from 'Waiting for you to enter this pairing code on your device' to 'Configuring device'
After about 10 seconds the device will be successfully paired and the wizard can be closed.