UPDATE SEPTEMBER 2016: A month ago I attempted to make contact with Templatic to help renew this review. They have not yet responded. Given they they no longer provide open support through a support forum and don't respond to contact I would advise EXTREME CAUTION dealing with Templatic. The summary below seems to stand more than ever – they're promising the world of possibilities at a click on the mouse but failing to deliver — only now they aren't transparent with their support (no forum means you cannot see what issues other users are having) and failing to respond to requests through their website contact form.
---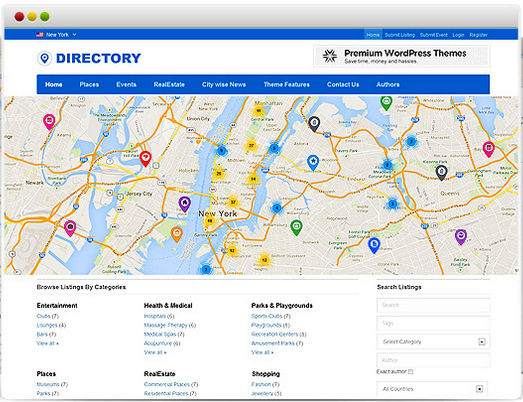 As someone that has been researching business directories for the best part of a year for a special project I was very excited to see the latest business directory Directory Theme by Templatic.
My requirements for my business directory were complicated – requiring not only businesses to be listed but also their events. There was also an unspecified need to expand the directory into other types of listings in the future.
My research led me towards several options but they all had varying levels of event capacity – then I found the Directory Theme for WordPress. But being a newly released them there were no reviews – instead I found numerous reviews on the developer, Templatic, and their previous business directory 'GeoPlaces'. An overwhelming amount of these reviews were negative with people warning to steer clear of Templatic.
In this article I hope to provide a short review of the theme and Templatic to clear the air and get the word out. To be clear I am in no way associated with Templatic, other than being a subscribed member.
So what's the deal with Templatic?
As mentioned, there's a huge amount of negative reviews on the Internet. Most of these reviews are around support issues. I did however see follow up posts from Templatic pleading that the support has improved.
What I will say is that the Templatic themes are more than just themes – most of their functionality is provided through widgets, plugins and complicated configuration. Their themes promise to deliver websites in various niche markets, and they quite dangerously imply that if you buy the themes you'll have your website live very quickly.
The fact is that niche markets, like with my project, have complicated requirements. Purchasers of these themes need to be capable and willing to customise the code further before you get the website you require.
From my experience I am led to believe that these negative reviews are from people that believed they wouldn't need to do this.
What's on the support forum?
A big part of my reluctance in any Templatic purchase was that the support forum is locked away – being only available after you have made a purchase. Without this I was unable to work out the level of support they provide or the issues people are facing with the theme.
Now that I've made this step I can share – yes there is support provided on the forum but not much more than point and click instructions and the occasional bug being discussed between members and support staff.
The typical response is within 24 hours, there are several support staff with different skill-sets. One particular staff will point you to particular files, functions or lines of code if you want to customise the functionality beyond what they provide in the theme.
Bottom line is you can't expect Templatic to customise the theme for you. There is however a jobs board where you can find a developer to help you.
What's the Directory Theme like?
I've spent a week working with the Directory Theme and I remain pleasently optimistic that this theme is not only the best WordPress theme for business directories available but the one for my project.
The design is mobile optimised using well formed HTML. It also looks nice and clean, ready for your own customisations such as branding.
The coding (the PHP and JavaScript) is quite complicated – you'll need to be confident with these languages to have any real success at customising the theme but the coding is heavily commented so you can find your way through it.
There are a few usability and functionality issues. The best three examples are
you can't display random listings on the homepage,
listing and events are linked through the front end AFTER an event has been created – you cannot create an event and link to a listing in one easy step
and the tabs available differ between listings and events – for example there is an 'overview' tab for listings but not events, and there is a 'photos' tab for events but not listings.
Personally I think these issues are a consequence of the theme being rushed to market and not completely throught through or tested – but perhaps Templatic had something else in mind?
As mentioned above, you can find people discussing these issues on the forum. Templatic support staff have expressed that their focus is not going to be on adding features to the Directory Theme (for the short term future) – so it's up to you to make these changes for now.
Summary
Templatic are selling premium themes in niche markets which by their very nature have unique requirements – I feel that this puts them in danger of people purchasing their theme and then realising that it was not up to their requirements. I think they deliver what is advertised – they allow you to preview the themes, create your own test site and discuss functionality with sales (and support) staff before making the purchase.
The Directory Theme is feature packed – however this means the code is complicated and areas of it appear to have been engineered by either an evil genius or a robot.
I do have one concern with Templatic, they appear to have shifted their focus from theme development to plugin development (for their themes). You can see this with the Directory theme – whilst they say they do not want to focus on improving the functional shortfalls they then release plugins which can be purchased for significant amounts of money.
I would NOT recommend the purchase of the theme.
If you do – be prepared for weeks or even months of customisation. Without the customisation your website will be basic but functional – which I suspect is not what their target audience is looking for. Ultimately the decision needs to based on your requirements – so if in doubt email templatic and ask some very clear questions to determine how the theme will suit your requirements.